Make Your Dream Backyard a Reality - Elevate Your Outdoor Space
Pool decks and patios are the perfect setting for relaxation.
Schedule FREE Consultation
The existing pool deck and patio surfaces we encounter are often builder grade products: plain concrete, spray decking, and pea gravel. At Allied, we know that the world of surfaces can be so much more interesting. From our beautifully crafted Carvestone overlay to modern paver and classic travertine applications, your options to improve your outdoor pool are nearly endless.
Choosing the right material isn't as simple as selecting the most aesthetically pleasing product. Your selection should also address the functional needs for your space. A pool decking material must be slip resistant and supply a moderate temperature. A patio material near your outdoor kitchen must be stain resistant and more durable. Lastly, the level of maintenance required by your selection must be something you're comfortable completing. We're here to educate, advise and deliver a beautiful surface perfectly suited for the needs of your outdoor living space.

As a Belgard Authorized Contractor, you'll know that your partner comes with world-class training on cutting-edge installation techniques.

Interlocking Concrete Pavement Institute Certified Installers benefit from the industry's latest information, education, and training.
---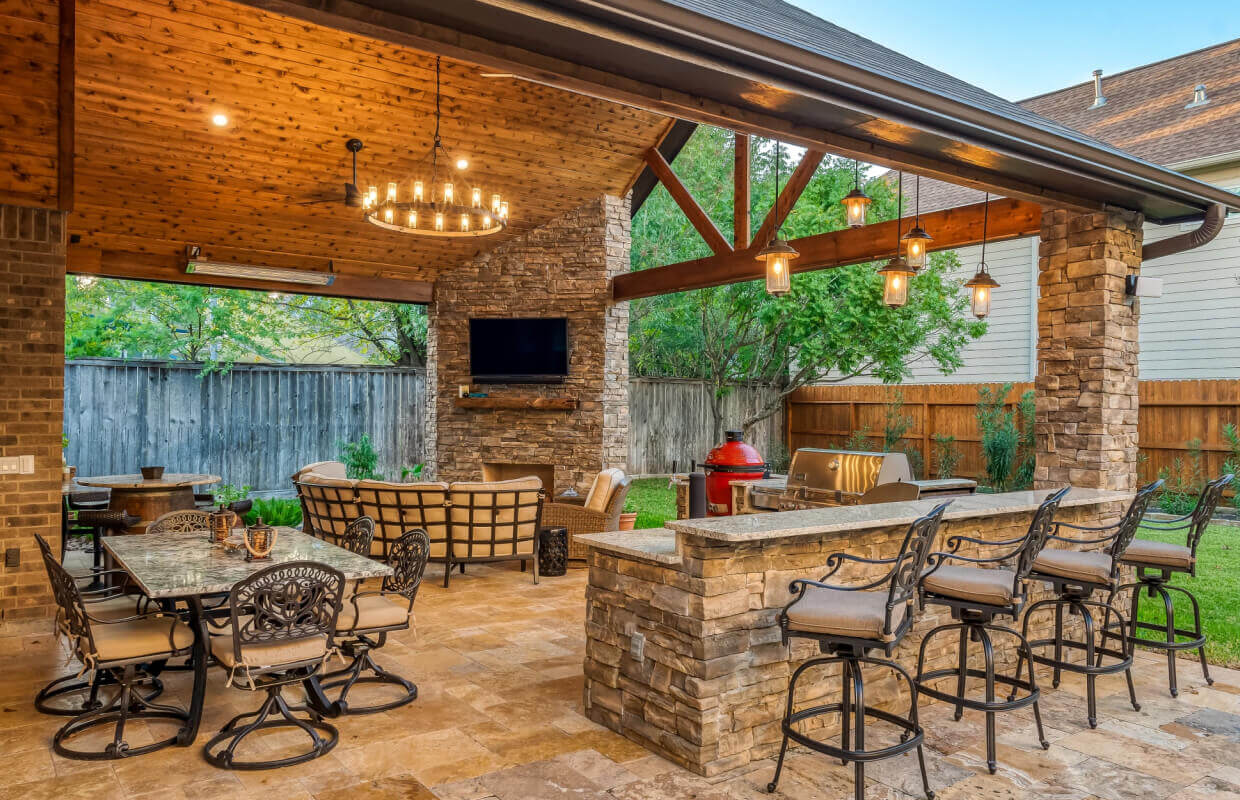 A Space to Entertain Guests
Adding a patio or pool deck to your home is a great way to entertain guests and make your outdoor space more inviting and enjoyable. With a pool deck, you can set up a seating area and create a comfortable and convenient space for your guests to gather. Additionally, a pool deck can provide easy access to your pool, allowing your guests to enjoy a refreshing swim or splash around in the water.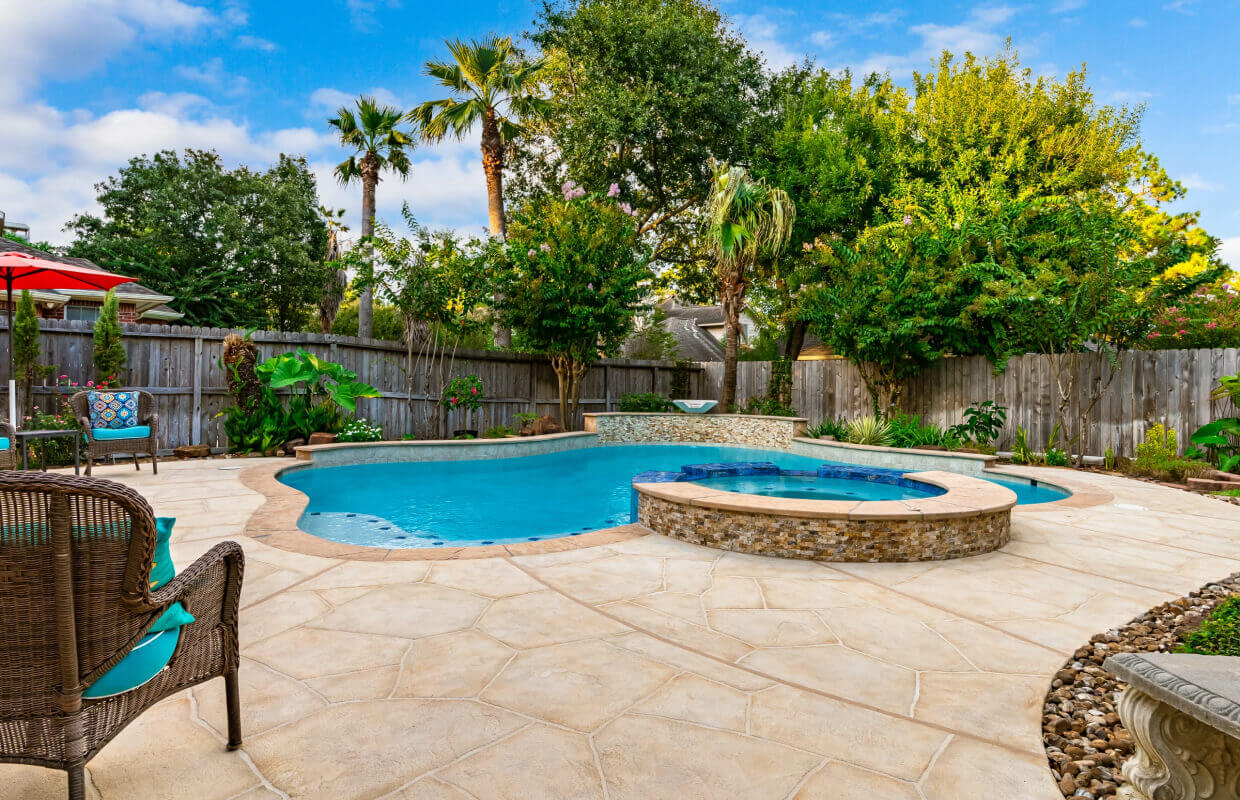 Increase Property Value
A well-designed and well-maintained patio or pool deck can add aesthetic value to your property, enhancing its overall curb appeal and increasing its value. This can be a valuable asset for potential buyers, many of whom are looking for a home with ample outdoor space.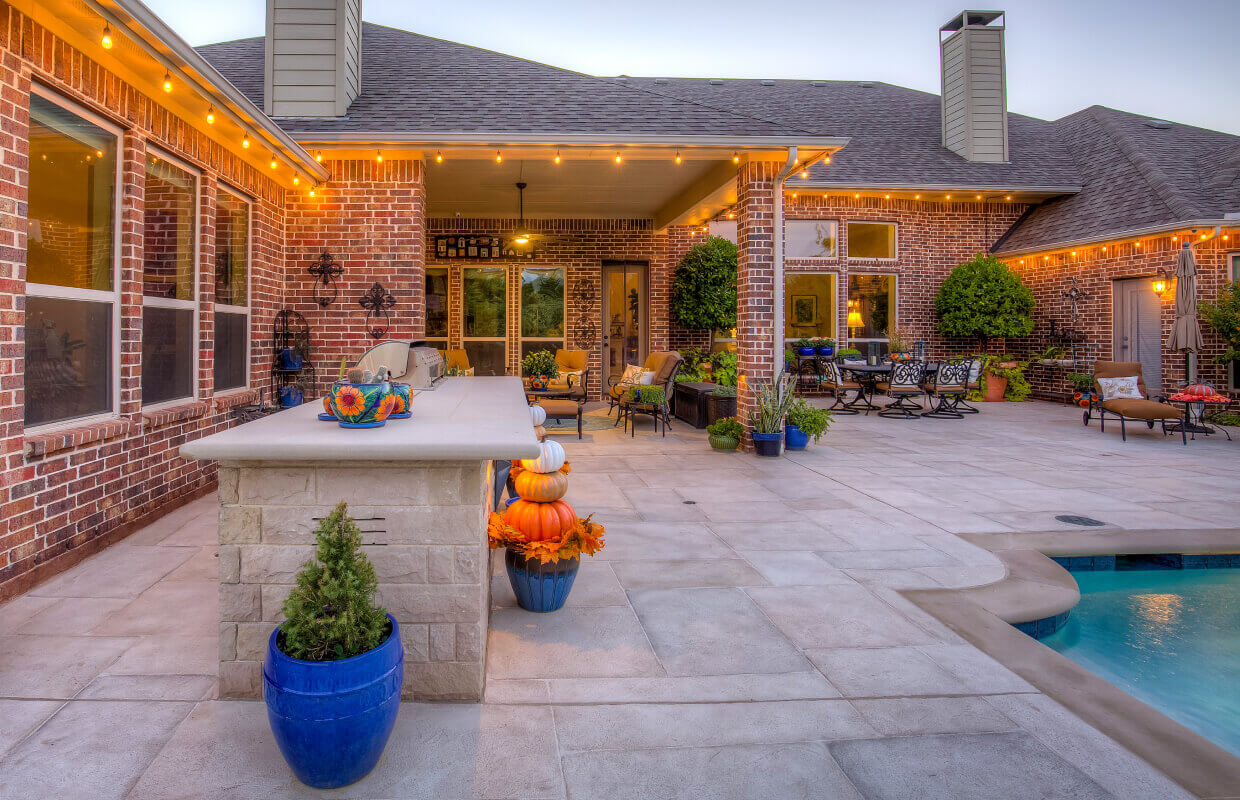 Extend Living Space
A patio or pool deck can also provide additional outdoor living space, perfect for entertaining, relaxing, or enjoying the outdoors. They also provide a functional space, providing a flat, stable surface for outdoor furniture and activities.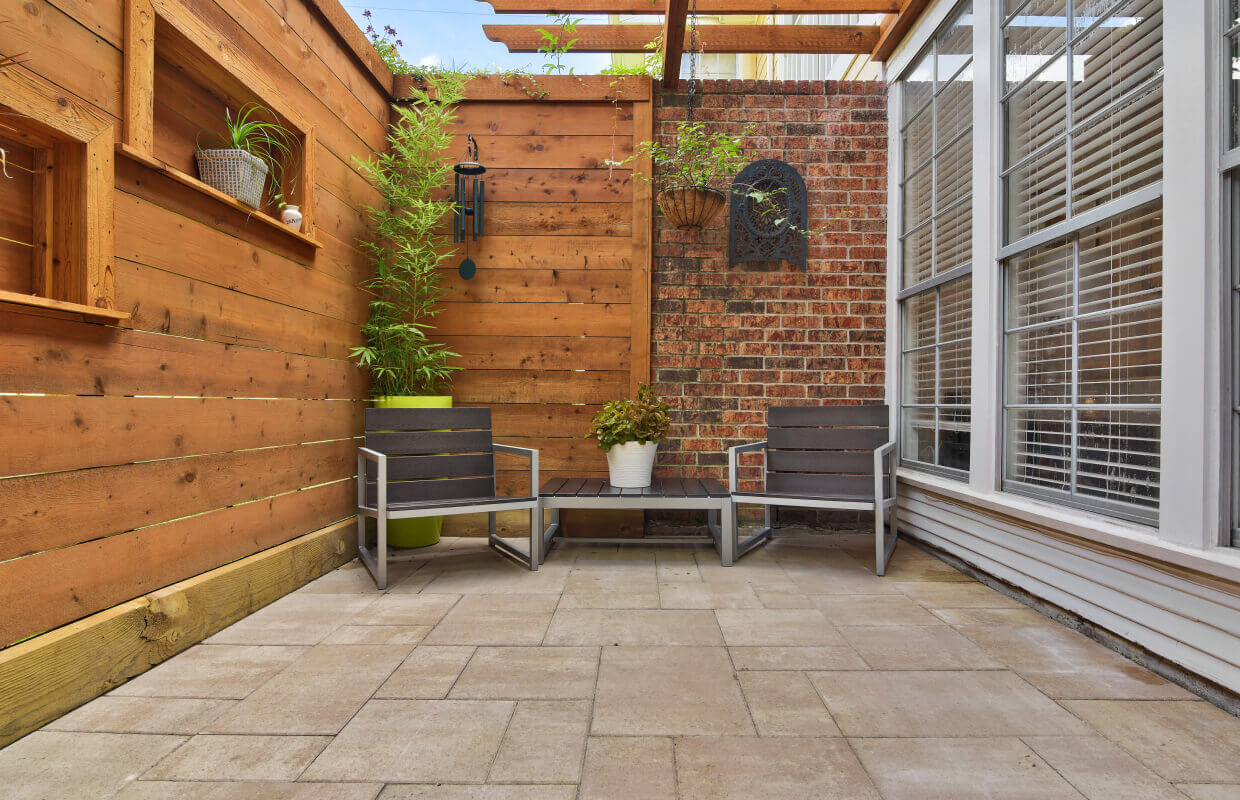 Time Tested Construction Techniques
Allied uses time tested construction techniques to ensure your patio or pool deck is strong, durable and long lasting. For raised patios, we use concrete footings to help distribute weight evenly across the ground, preventing sinking or shifting over time. For floor level patios and pool decks, we use concrete to create flat, stable surfaces, treated lumber for framing, and galvanized steel hardware that prevents rust.
Patio
&

Pool Deck Considerations
Carvestone Patios & Pool Decks
A concrete surface that's retained its structural integrity but has lost its aesthetic over the years may be a great candidate for a Carvestone overlay. Our overlay product can be installed directly over the top of your existing patio or pool deck and can revive what may have become an outdated space. It's durable, beautiful, and entirely customized to your space.
Paver Patios & Pool Decks
A paver solution is the most durable application that can be installed on your patio or pool deck. Beyond its durability, it's also beautiful, offering an enormous variety of different aesthetic options. The wide range of textures, colors, shapes, and sizes allow a paver application to fit seamlessly in with almost any style we're looking to complement.
Enlarging Patios & Pool Decks
We're often in a scenario where our clients are looking to enlarge their space. Whether it's being extended to create a new space or simply adding a few seats, one of the major concerns they share is making certain the old surface blends with the new. As an experienced remodeler, we understand this and make a point of concerning ourselves with the final product we leave you with….even the areas we may not have constructed.
Styles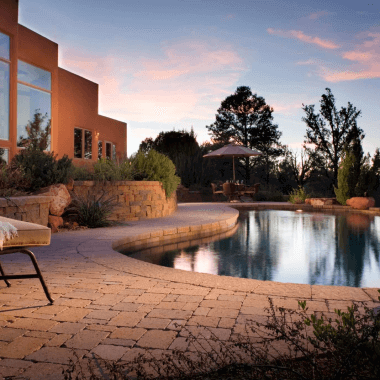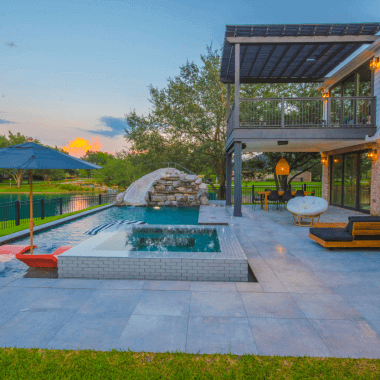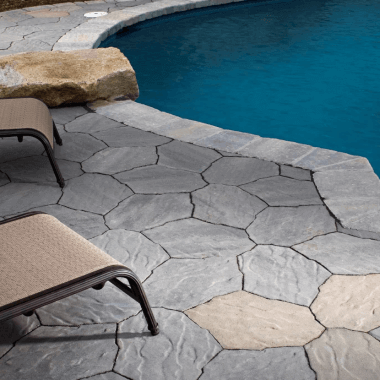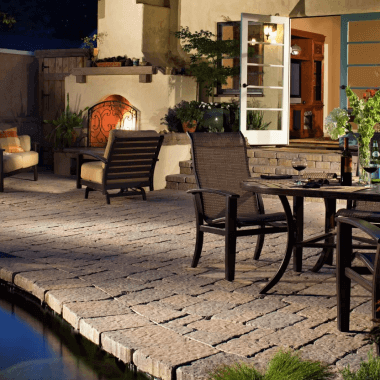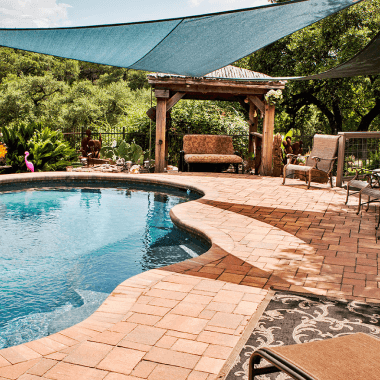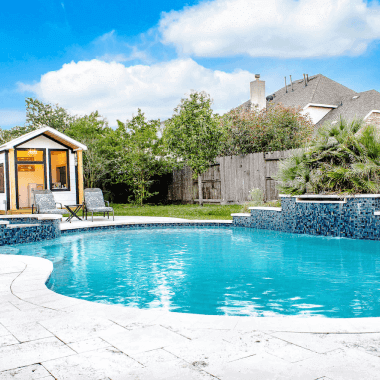 Materials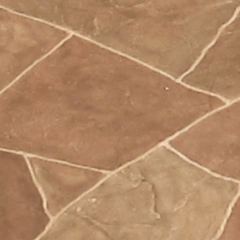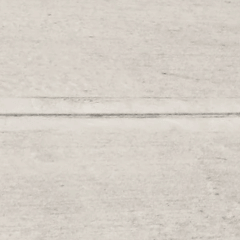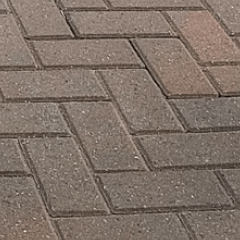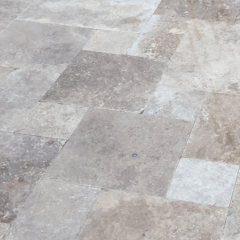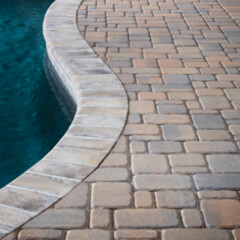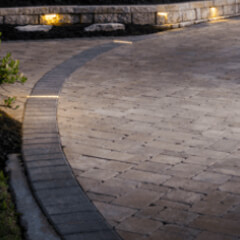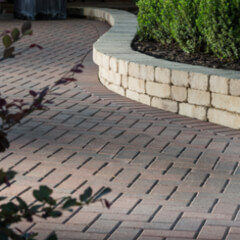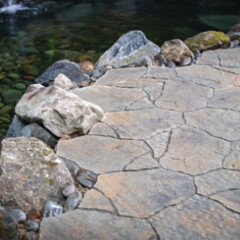 results
Our Patios & Pool Decks Gallery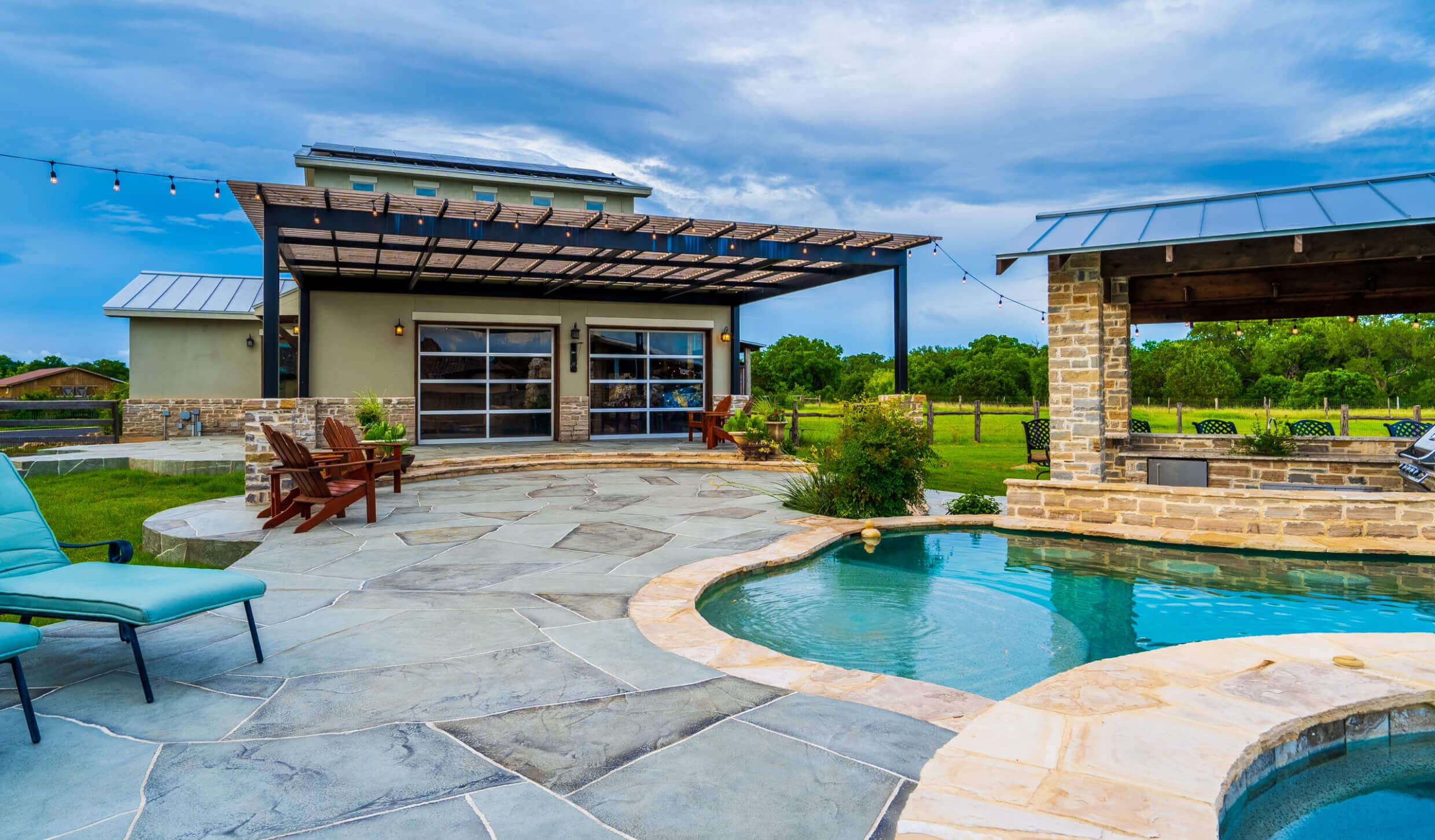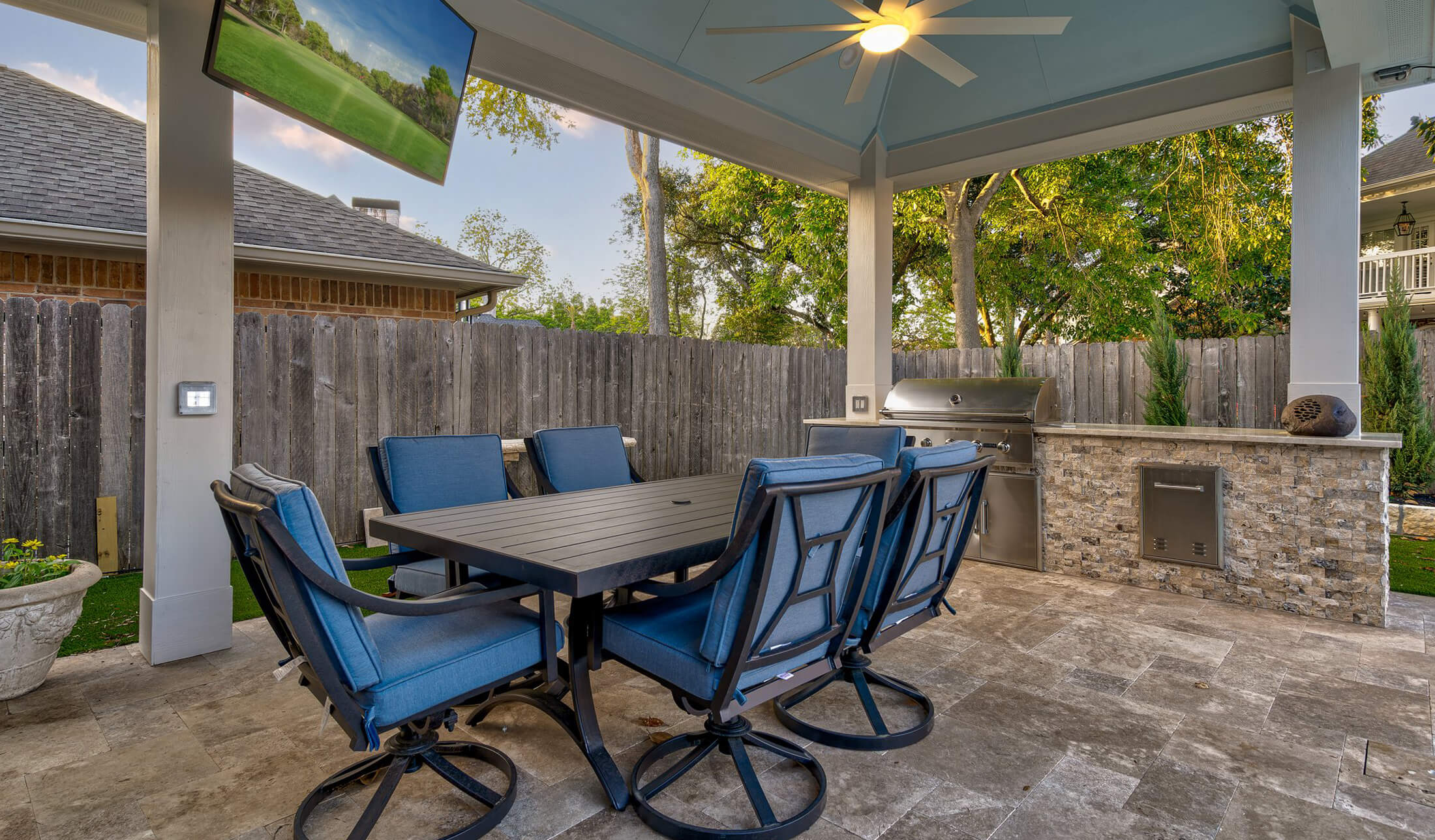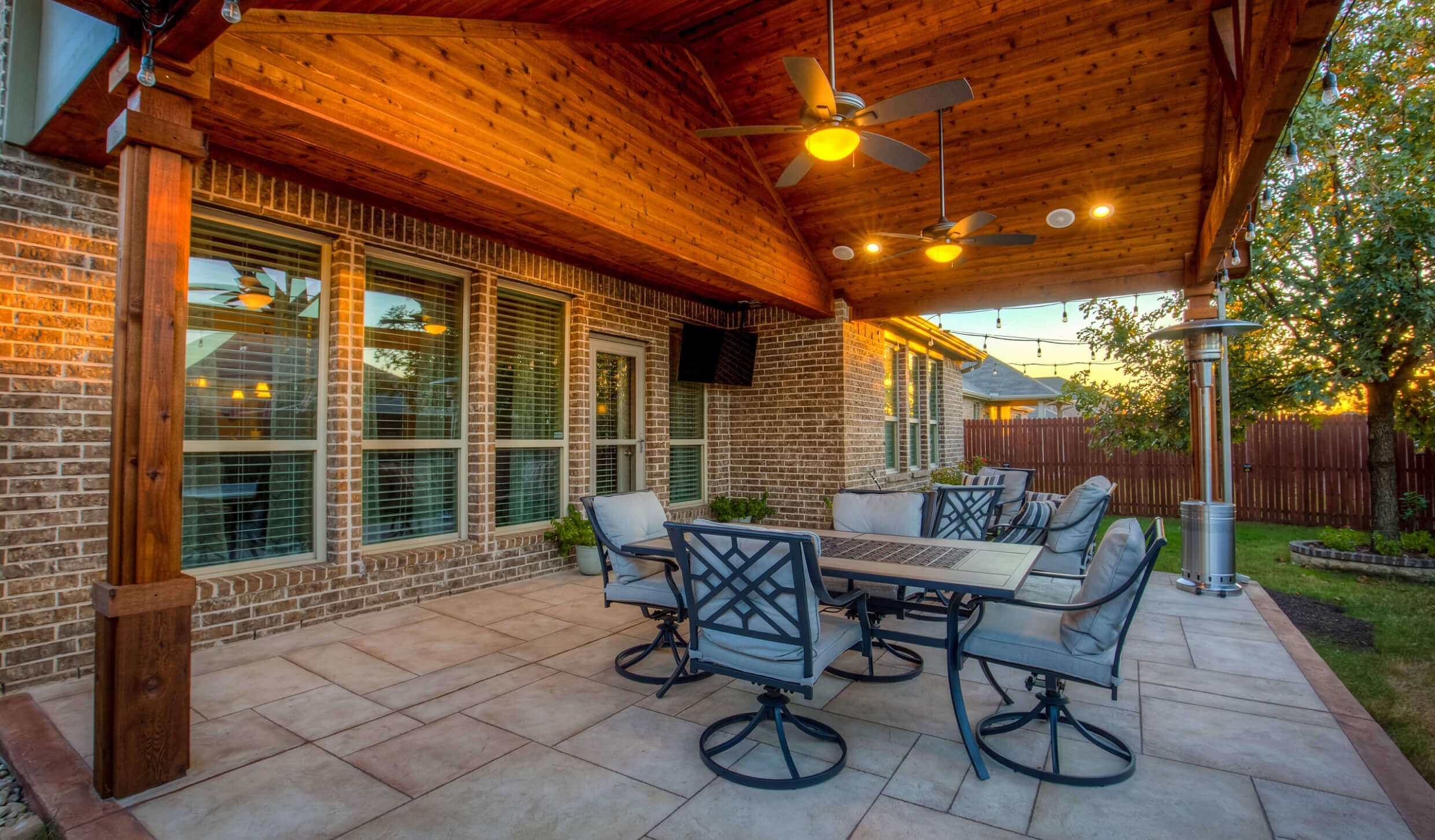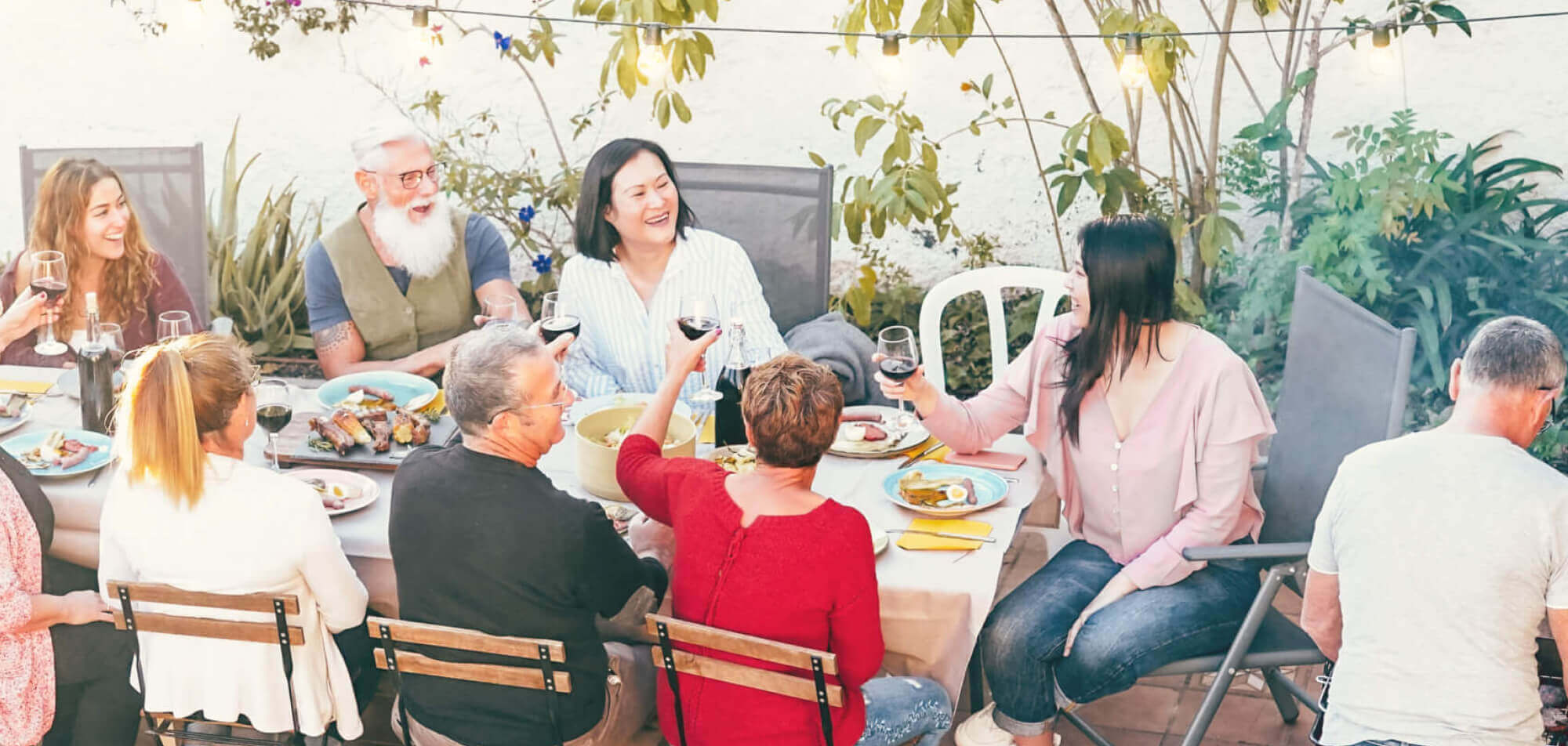 "Allied Outdoor Solutions did a wonderful job with my concrete work. Everyone was very professional, punctual and clean. My new stamped concrete is beautiful! Even the normal concrete to widen my driveway is wonderful. They explained everything well and made sure I knew what was going to happen through every step. I highly recommend them."
Our Build Process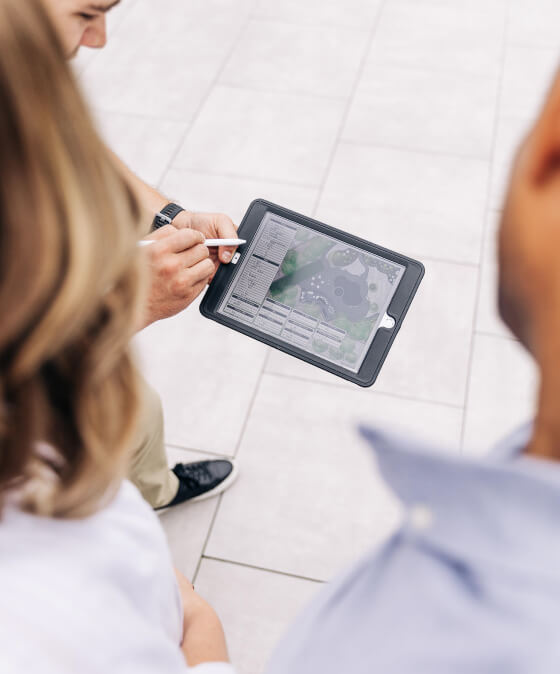 1. Design
We'll lay out your new patio and create a drainage plan that can handle the expected volume of water.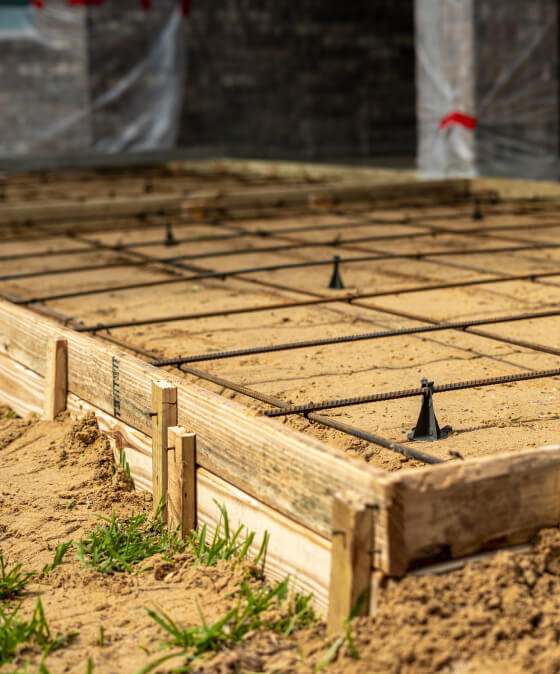 2. Prepare
In spite of the fact that you'll never see it, our time will largely be spent building out the materials beneath the surface.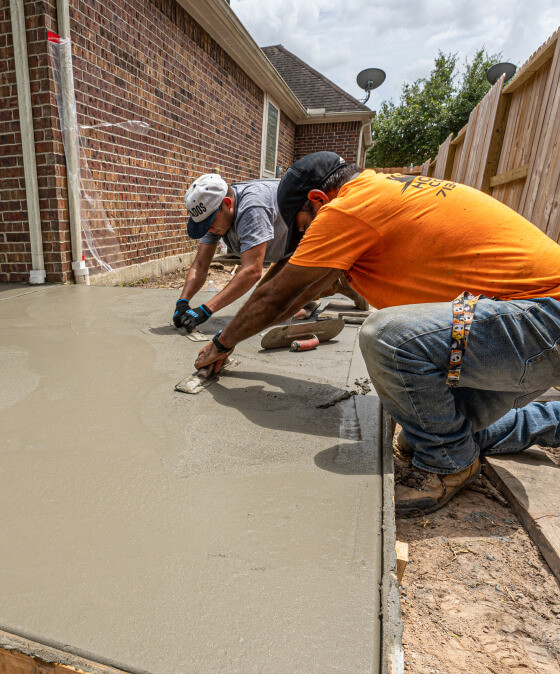 3. Build
Once the base is established, our experienced craftsmen will install your surface with the future in mind.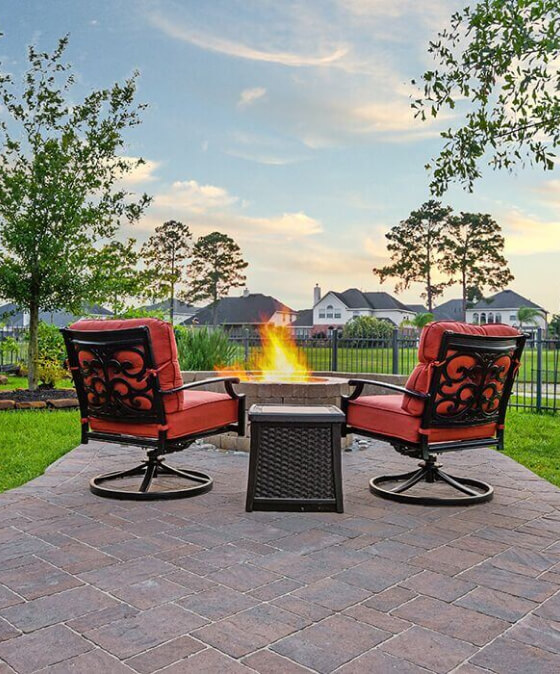 4. Live
We'll clean up our tools, add any finishing touches and pass over the keys to your new space.
Frequently Asked Questions
Why Allied Outdoor Solutions?
Our biggest strength is a commitment to two related issues: installation quality and customer satisfaction. Both really begin with a commitment to process – every stage of it.
We'll have a thorough pre-job walk-through. All the necessary permits will be secured, drainage and irrigation considered, inspections arranged, HOA approval received, layout confirmed and then, finally, work can begin. After completion, your project manager will perform a post-job walk-through.
Do you install decorative concrete surfaces?
Unfortunately, we have chosen to not offer these applications but we have many alternative solutions we can discuss.
What does it mean to be ICPI certified?
We're a member of the Interlocking Concrete Pavement Institute. You can relax knowing that we have done our homework so that you don't have to. We have gone to great lengths to keep ourselves up to date on installation training and methods so that we make sure that every project is installed the way we'd want it in our own backyard.
Is cracking an issue in pavers?
Not typically. Because pavers consist of small, high-density units, they resist the long, unsightly cracks that can mar ordinary concrete.
Are pavers stronger than concrete?
Yes. Inch for inch, pavers are stronger and more durable than conventional surfacing materials. Pavers can easily handle the daily weight stressors of cars and trucks. In fact, they are currently being installed on airport runways!
What are the standard specifications for an Allied concrete installation?
At Allied, a typical pour has a 4" slab of concrete, 3/8" rebar on 18" centers and the slope determined by the on-site foreman. We'll also take into consideration things like thicker concrete at the approach, drains that need to be installed, and sprinkler issues.
How does Allied install a paver system?
Depending on your environment, we can utilize an overlay system, remove and replace, or start from scratch. For a standard remove and replace, paver installation begins with the demolition of the existing surface. The existing hardscape—be it concrete, stone, or pavers—is removed. We then excavate down another 4″-6″ to create an 8″-10″ paver system. Your area will be built back up using a stabilized and compacted base material. We then apply a small amount of bedding sand to your pavers for the perfect base. An edge restraint is poured around the outside to help keep everything intact. Once the pavers are laid, we carefully fill the joints with polymeric sand—it looks like grout and will help inhibit weed growth and prevent sand loss and joint erosion.
What does it mean to be a Belgard Authorized contractor?
Because we are one of the few contractors across the state to be recognized by Belgard, the homeowner is rewarded with a lifetime warranty on the paver itself. While a paver is a durable product to begin with, it must be installed by an authorized contractor in order to have the backing of the warranty given. The correct installation of the paver is what gives it its longevity.
Do pavers stain easily on a pool deck or patio?
While any cement product will change color over time or be impacted by outside forces, pavers are less likely to stain than other applications. Pavers are rated for less than 5% absorption, which is considerably lower than asphalt and poured concrete. This aids in resistance to oil and salt, both common destructive agents in the life and appearance of other paved surfaces.
What maintenance is required?
There are varying degrees of required maintenance depending on the product selected and those can be discussed in greater detail at the time of sale.
let's talk
Ready to get started?
You're just a few clicks away from beginning a journey that will transform your current setting into your dream backyard.
Schedule FREE Consultation
Build Now, Pay Later.
We've created affordable monthly payment offerings tailored to meet the specific needs of your circumstance.
Learn About Financing