Blog
What Makes Carvestone the Preferred Choice for a Concrete Overlay?
January 14, 2014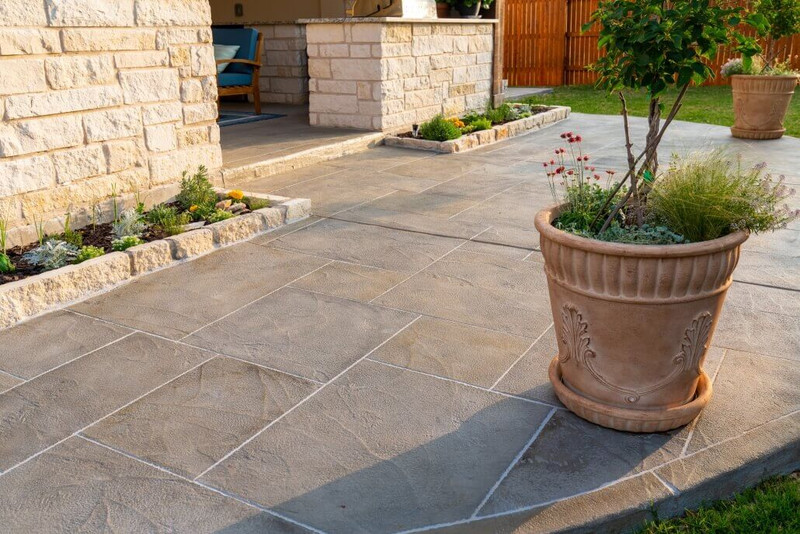 Concrete overlays are a way of covering imperfections in already existing surfaces like decks, driveways, and patios, strengthening surfaces, or adding aesthetic value to a property. Typically, concrete is the most common material used for overlay purposes. However, if you are a homeowner in need of a concrete overlay for your driveway, patio, or other area of your property, Carvestone is the best option for you.
What is Carvestone?
Carvestone is a type of coating that's used as an overlay for a variety of areas and surfaces. Developed in Europe, Carvestone was originally intended for repairs and renovations on old, historic buildings. Carvestone is created using a combination of cement and other minerals, such as quartz. This unique combination allows for Carvestone to be twice as strong as a traditional concrete overlay, while still looking and feeling like real stone. The PSI of Carvestone is approximately 6000, while concrete ranges from 2500-5000 PSI. Another benefit of Carvestone is its unique insular properties, which result in Carvestone maintaining a comfortable temperature, even in the most extreme weather. Unlike concrete, Carvestone won't get too hot to the touch. Additionally, unlike stone, Carvestone won't become dangerously slippery when wet.
Where is Carvestone Applied?
Carvestone is a versatile overlay that can be used in just about every place imaginable, and acts as stone would. Popular areas for Carvestone application include pool decks, driveways, outdoor patios, walkways, outdoor kitchens, patio covers, pergolas, and fire features. Carvestone can be applied over concrete, pea gravel, pool coping, brick, tile (if in good condition), and cool deck. Due to its no-slip nature and ability to stay cool in hot temperatures, Carvestone is particularly a favorite for pools and decks, ensuring the safety of your friends and loved ones on hot summer days.
Why You Should Choose Carvestone
In addition to its remarkable strength and durability, Carvestone is also distinctive in its ability to be handcrafted and customized to your individual preference. Not only can you choose your own stone pattern with Carvestone, Carvestone applications are also carved, grouted, and colored by hand. Each Carvestone application is unlike any other, guaranteeing that you'll have a one-of-a-kind feature that friends, family, and neighbors will love.
Carvestone allows you to give a whole new design to your entire yard without any of the mess and hassle of traditional remodels. Since it is a simple overlay, Carvestone can be done without any of the backbreaking tear out of old or ruined surfaces.
If Carvestone seems like the perfect choice to you, the price might make it even more desirable. Because Carvestone is a concrete overlay, it's much less expensive than completely renovating or replacing already existing surfaces. Additionally, the majority of the time Carvestone is self-leveling, meaning that you will not be spending money in extra labor costs to smooth and level your new surface. The price, combined with its unique features and aesthetic value, make it the perfect option for any surface you need redone on your property.
For more information or to talk with someone about the specifics costs for your yard, installation questions, and to speak with a professional Carvestone contractor and get started reinventing your home today.