Blog
Texas Outdoor Concrete Patio Designs & Inspiration
November 09, 2023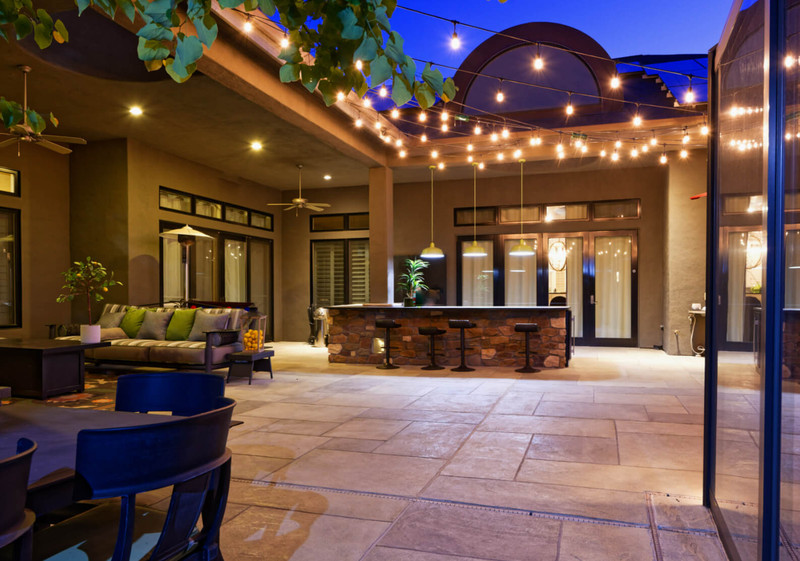 Let's dive into the world of concrete patio design and the myriad custom style options that can transform your outdoor living space in Texas. From concrete resurfacing and overlays to outdoor solutions provided by expert contractors, we're here to explore the possibilities that Allied Outdoor Solutions offers to elevate your outdoor living experience. Whether you're seeking inspiration for a complete patio makeover or simply looking to enhance your existing space, join us on a journey through the diverse range of designs and ideas that the Texas outdoor living scene has to offer.

Dreamy Houston Waterfront Concrete Deck
Imagine the epitome of outdoor living, where your waterfront concrete deck becomes a lakeside extension of your home. Its warm, earthy tones harmonize seamlessly with the natural beauty that surrounds it, creating a tranquil oasis where you can spend endless hours of relaxation and friendly competition amidst a backdrop of warmth and beauty. The thoughtfully designed layout of this Houston lakefront retreat makes it the perfect place to relax, unwind, and make memories that will last a lifetime.
Enhanced Contemporary Pathway Design
Follow the path decorated with an enhanced Carvestone concrete overlay, and it will lead you to a stunning pergola retreat in a Fort Worth backyard. This carefully crafted concrete pathway boasts an enhanced design that radiates with a blend of clean lines and cool tones, perfectly complementing the rustic wood and brick of the pergola wraps. It's not just a walkway; it's a journey that adds an element of modern sophistication to your outdoor space, inviting you to explore and relax in style.
Influenced by Nature Custom Patio
Step into a custom patio that feels like a tropical paradise, where nature seamlessly blends with leisure. This outdoor sanctuary mirrors the vibrant hues of the surrounding landscape, creating a harmonious oasis of colors and textures. The light-colored pool deck exudes an air of serenity and tranquility, inviting you to bask in the beauty of your surroundings and unwind in your very own slice of paradise.
Dallas Concrete Patio With Turf and Modern Zen
In the heart of Dallas, experience the perfect fusion of modern aesthetics and Zen tranquility with a captivating design that seamlessly marries concrete slabs and soft, lush turf. The sleek, minimalist design of the concrete slabs is the picture of contemporary elegance, while the Zen-like ambiance is accentuated by the clean lines and smooth surfaces. What truly sets this space apart is the vibrant green turf, carefully juxtaposed with the concrete, adding a touch of natural beauty and warmth. Here, a harmonious balance is struck between man-made elements and the organic world, creating a haven where the allure of modernity coexists peacefully with the serenity of nature.
Monochrome Style Backyard Patio
Experience a light, monochromatic outdoor living space that's been artfully personalized with pops of vibrant color through curated decor. This backyard patio creates an open and spacious atmosphere, fostering both tranquility and simplicity. Yet, it also infuses the area with energy and personality. It's a place where dining, cooking, and lounging areas come together to provide an outdoor oasis for friends and family to spend time together, celebrating the beauty of monochrome style with a playful twist.
Natural Stone Look Concrete Patio Deck

Adorned with a flagstone concrete overlay, this Houston pool deck artfully mimics the organic beauty of natural stone, instilling an earthy aesthetic that's both inviting and timeless. The pool itself is elegantly framed with travertine coping, a classic choice that exudes sophistication and seamlessly complements the flagstone concrete overlay, resulting in a cohesive and visually pleasing design. The organic texture and irregular shape of the flagstone overlay provide a textured surface reminiscent of the natural variations found in authentic flagstone, bringing the charm of the outdoors to your poolside oasis. With Carvestone as the foundation, a cohesive transition between the pool area and the natural elements is achieved, while also enhancing safety and durability with its slip-resistant surface, ensuring the safety of all poolside activities.
Neutral Concrete Patio for All Styles
This neutral concrete patio is designed to complement all styles, thanks to a Roman pattern concrete overlay that boasts intricate geometric designs, adding a touch of timeless elegance and sophistication to the Austin outdoor living space. The color palette of tans and grays creates a harmonious blend with the natural elements of the backyard, including limestone and wood. It pairs beautifully with the natural stone, showcasing its inherent beauty, and seamlessly complements the natural wood elements of the patio, enhancing the warm and inviting atmosphere. The Roman pattern, combined with the neutral color palette, offers a timeless and versatile design that can effortlessly adapt to various styles and decorative elements, ensuring a cohesive and visually appealing outdoor space for all to enjoy.
Relaxed Beach Backyard Pool Deck & Custom Patio
Experience this relaxed beach backyard pool deck and custom patio, where the color scheme revolves around soft and natural tones, reminiscent of sandy beaches and coastal landscapes. The flagstone patterned concrete overlay gives the deck a textured and visually appealing surface, closely resembling the look of natural stones. Its light color enhances brightness, creating a refreshing and airy feel that beautifully complements the pool area. As a low-maintenance choice, it requires minimal upkeep compared to natural stone alternatives, ensuring more time for relaxation and less for maintenance. Overall, the deck creates a serene and beach-inspired ambiance, perfect for enjoying the poolside experience in a stylish and inviting manner, evoking the tranquility of your favorite coastal getaway.
Seamlessly Designed Concrete Patio
Whether it's a quiet evening with family or a festive gathering with friends, this meticulously designed concrete patio ensures a memorable outdoor experience. Intricate details of a flagstone overlay create a weathered and textured appearance, evoking the charm of traditional stone craftsmanship. This patio isn't just a standalone feature; it's an integral part of our outdoor living space. Its seamless design effortlessly merges with the adjoining kitchen and patio cover, forging a harmonious and inviting environment for outdoor gatherings. The rustic theme carries through to the matching kitchen space, where natural wood accents, stone countertops, and a built-in grill and smoker beckon you to explore the culinary delights of outdoor cooking and entertaining.
Tile Look Concrete Dining Patio Space
The Carvestone resembling tile brings a sophisticated and upscale aesthetic to the outdoor space, transforming this dining patio into a haven of elegance. As the eye-catching centerpiece of the backyard, the patio seamlessly blends with the surroundings, creating a cohesive design for this living room extension. Guests can now revel in the beauty of a tile-look with minimal upkeep, thanks to the long-lasting durability against outdoor elements, making every al fresco dining experience a true delight.
Upscale and Timeless Concrete Patio
Transform your backyard with a concrete overlay that emulates the timeless charm of tiles, infusing the outdoor space with a distinct and captivating style. The color of this Carvestone application seamlessly integrates a Tuscan aesthetic into the surrounding environment, creating a cohesive and enchanting design. The warmth of the stone kitchen is perfectly complemented by the warm tones used in the Carvestone overlay, fostering an inviting atmosphere for outdoor gatherings. What's more, a drainage system is subtly hidden within the pattern to avoid drawing unwanted attention, ensuring that both form and function come together harmoniously in this upscale and timeless concrete patio.