Handcrafted Driveways & Walkways for Austinites
A driveway isn't simply a surface for parking your vehicle, it's what leads you home every time you pull in. In Austin, we have unique homes and stunning landscapes. At Allied Outdoor Solutions, we believe in creating driveways and walking paths that fit seamlessly in with that natural beauty. Whether you're in Spicewood, Georgetown or Dripping Springs, our versatile product offerings can help craft a space that lifts your spirits each time you arrive at your home. It's tough to put a price tag on that...
Our Build Process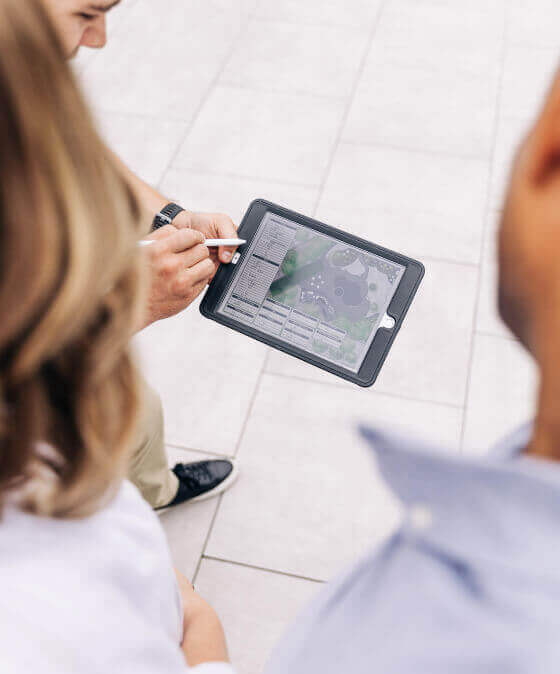 1. Design
The layout is entirely up to you and we're happy to work with you to determine the shape that best fits your needs.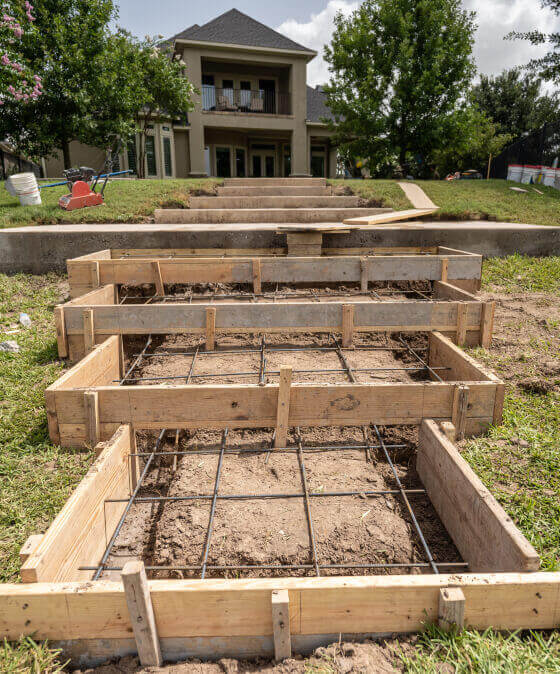 2. Prepare
We'll remove and dispose of your existing driveway and begin forming and prepping the area for your new surface.
3. Build
Our surfaces are artfully finished by teams of men who have spent decades earning their role and honing their craft.
4. Live
We'll confirm your new surface meets our standards, answer any questions you may have and deliver your new surface.
results
Our Driveways & Walkways Gallery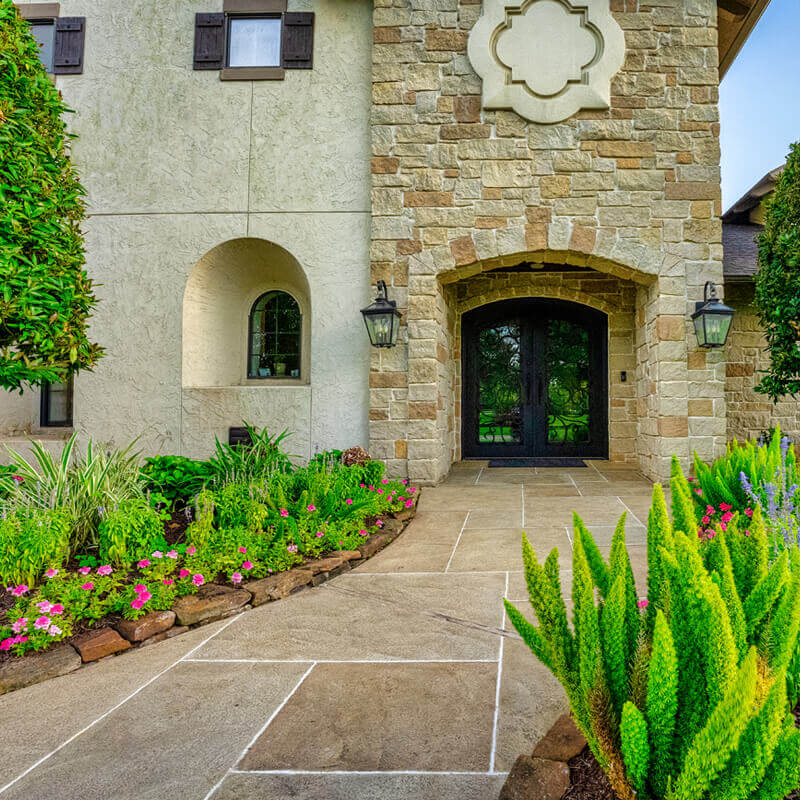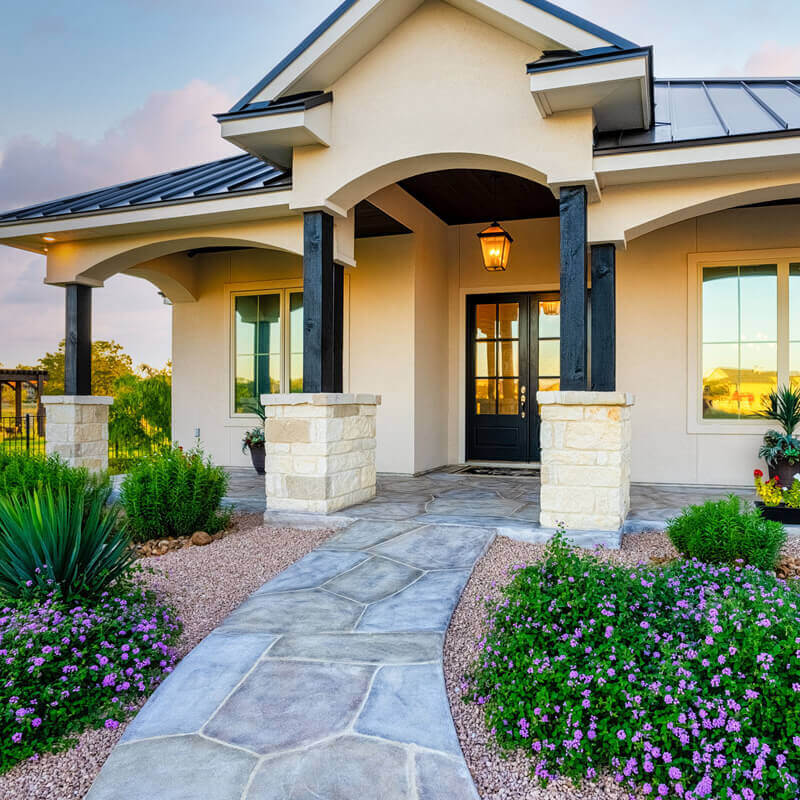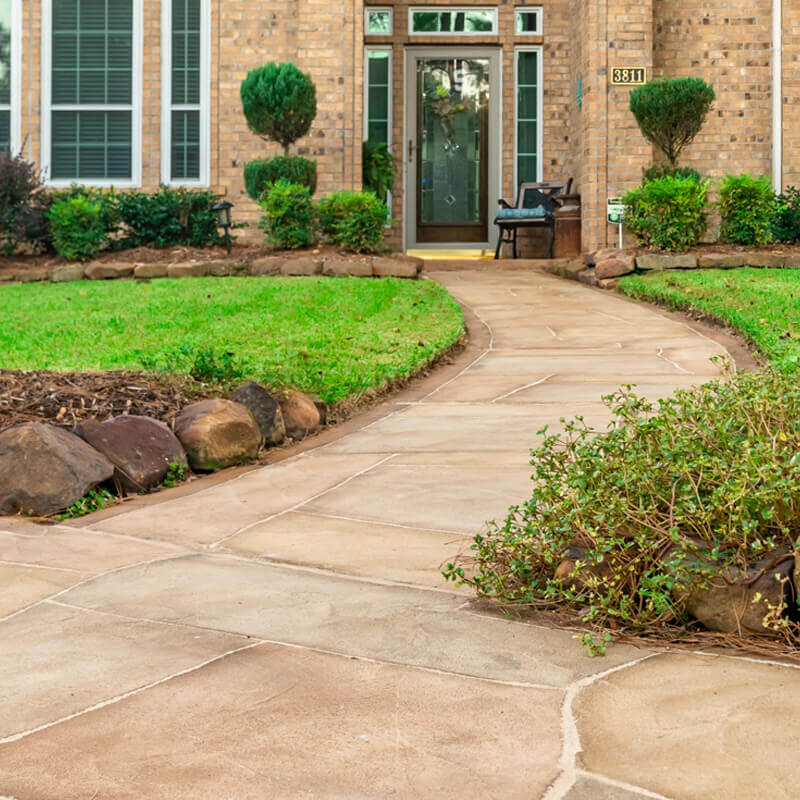 Hear From Allied Clients
"Allied was worth every penny. Their communication was top notch and the various crews they had throughout the project were on time, respective, and kind. They always cleaned up at the end of the day and didn't leave anything out that my kids could find. The quality of the finished product was top notch. They were more expensive then others in the area but given the level of service, quality of product, and speed. They were 100% worth it. You get what you pay for, as they say."
"Absolutely beautiful firepit addition that matches the facade of our limestone and brick house. Perfectly designed with extra care for perfection."
"Allied Outdoor Solutions did an incredible job on our new back patio. The work was high quality and they kept us informed throughout the entire process. They made recommendations and made sure to carefully review all of our options so that we knew exactly what we were getting. I would absolutely use them again."
"We had our pool deck and front sidewalks redone this past week using Allied Outdoor Solutions and their Carvestone overlay product, and the finished product looks incredible. Their crew was probably one of the more professional construction crews that we've ever utilized when doing remodel work. We couldn't be more pleased and feel we've definitely added value to our home. Highly recommend these folks."
"This is the second time we have used Allied for work in our backyard. They provide high quality work and built our pergola very quickly. If you want the work done right save yourself time and money and just call Allied!"
"Allied built me a wonderful covered patio, outdoor space, a pergola, and a fire pit. It was more expensive than some other quotes I've got, but these days it's hard to find anyone accountable, so we went with Allied as they seem to be solid and legit. We were right! The job is finished on time. The structure is solid and the work is done right. We had some weather delays but I was communicated clearly with changes and scheduling. The quality of work is impeccable! I would use them again for my next outdoor extension project."
"We very much appreciated and can commend Allied in Houston for an outstanding job and a (surprisingly) well-organized and well-executed process. From the initial inquiry and sales call right through to job completion, everyone knew what they were supposed to do and followed through with thoroughness not seen in many other situations recently. Soil subsidence had caused our driveway and sidewalk pavers and some concrete work to be loose, totally broken, or disconnected. The pre-construction phase was made easy for us and the thorough planning gave us confidence. Meeting the actual workers and supervisors added to our belief that we had made the right choice of company. The actual work took only four days (we had expected weeks), and good weather contributed to the work of the crew of AMAZING workers. The change orders we asked for were handled and completed smoothly. My wife and I are most pleased to report and praise this process and job completion!"
"Excellent and timely construction of a patio cover , built onto our house. Perfect execution, timely response and excellent workmanship. Could not be happier!"
"We used Allied for a patio extension project and we were absolutely thrilled with the results. We had great communication from the team and our project was completed with high quality and in a very timely manner. The extension they installed looks like it was built with our house. Would definitely recommend using them for any construction needs!"
"Great job by the entire crew and staff. The gentlemen that did the Carvestone design on site were amazing to work with. They took their time, made sure it was done right, and answered all of our questions."
Contact Us Today!
Allied Outdoor Solutions
Central Texas Office
317 Ranch Road 620 South #302C
Lakeway, TX 78734
Online Service Hours
Monday - Thursday, 8:00 AM - 7:00 PM
Friday, 8:00 AM - 5:00 PM
Saturday, 8:00 AM - 2:00 PM
Frequently Asked Questions
Why choose Allied Outdoor Solutions?
Our biggest strength is a commitment to two related issues: installation quality and customer satisfaction for our Austin customers. Both really begin with a commitment to process – every stage of it.

We'll have a thorough pre-job walk-through. All the necessary Austin permits will be secured, drainage and irrigation considered, inspections arranged, HOA approval received, layout confirmed and, finally, work can begin. After completion, your project manager will perform a post-job walk-through.
How will I select my stamp and color?
We'll use samples ahead of time to help you find the perfect look for you and your home.
What does it mean to be ICPI certified?
We're a member of the Interlocking Concrete Pavement Institute. You can relax knowing that we have done our homework so that you don't have to. We have gone to great lengths to keep ourselves up to date on installation training and methods unique to Austin so that we make sure that every project is installed the way we'd want it in our own backyard.
Is cracking an issue in pavers?
Not typically. Because pavers consist of small, high-density units, they resist the long, unsightly cracks that can mar ordinary concrete.
Are pavers stronger than concrete?
Yes. Inch for inch, pavers are stronger and more durable than conventional surfacing materials. Pavers can easily handle the daily weight stressors of cars and trucks. In fact, they are currently being installed on airport runways!
What are the standard specifications for an Allied concrete installation?
At Allied, a typical pour has a 4" slab of concrete, 3/8" rebar on 18" centers and the slope determined by the on-site foreman. We'll also take into consideration things like thicker concrete at the approach, drains that need to be installed, and sprinkler issues.
How does Allied install a paver system?
Depending on your environment, we can utilize an overlay system, remove and replace, or start from scratch. For a standard remove and replace, paver installation begins with the demolition of the existing surface. The existing hardscape—be it concrete, stone, or pavers—is removed. We then excavate down another 4"-6" to create an 8"-10" paver system. Your area will be built back up using a stabilized and compacted base material. We then apply a small amount of bedding sand to your pavers for the perfect base. An edge restraint is poured around the outside to help keep everything intact. Once the pavers are laid, we carefully fill the joints with polymeric sand—it looks like grout and will help inhibit weed growth and prevent sand loss and joint erosion.
What does it mean to be a Belgard Authorized contractor?
Because we are one of the few contractors across the state to be recognized by Belgard, the homeowner is rewarded with a lifetime warranty on the paver itself. While a paver is a durable product to begin with, it must be installed by an authorized contractor in order to have the backing of the warranty given. The correct installation of the paver is what gives it its longevity.
Do pavers stain easily on a driveway?
While any cement product will change color over time or be impacted by outside forces, pavers are less likely to stain than other applications. Pavers are rated for less than 5% absorption, which is considerably lower than asphalt and poured concrete. This aids in resistance to oil and salt, both common destructive agents in the life and appearance of other paved surfaces.
What maintenance is required for pavers?
Pavers require far less maintenance than other hardscape materials. Their strength and durability eliminate costly patching or re-surfacing. Pavers provide a long-lasting, dependable surface that is both aesthetically pleasing and lasts for many years. Their modular nature assures that they can easily be replaced or repaired as needed. Additionally, a sealant layer is not required, which can help offset the initial project cost.