5 Reasons You Need Carvestone Concrete Overlay for Your Home
Here are the top 5 Reasons You Need Carvestone Concrete Overlay for Your Home
If you are considering doing some upgrades to your home, you may want to think about ways that you can add more curb appeal. Customized exterior improvements are a great way to do this. Unique Carvestone concrete overlay for walkways, porches and entrances can make a huge impact on your home's appearance. Here are five reasons you should consider this popular exterior improvement.
Concrete Overlays Add Interest
Unlike traditional concrete, Carvestone overlays allow you to add your own unique flair to your home. There are a huge number of color and style choices that simply cannot be accomplished any other way. Most concrete applications are simply sprayed or stamped on, but Carvestone overlays are hand-crafted. Since each project is carved, colored and grouted by hand, your home will be truly unique from your neighbors.
Concrete Overlays Add Value
Not only do concrete overlays add interest and elegance to your entrance, patio or other outdoor areas of your home, they also add value. A home with beautiful landscaping is always more desirable and yields a higher price on the market. Not only that, but the ability to use the space adds daily living value to the home for you and your family.
Concrete Overlays Cover Minor Flaws
If the concrete paths, walkways and porches around your home have been through a few season changes, it will likely show cracks, missing chunks and uneven areas. Although repairs do help to regain the structural integrity, they don't always match up the best. With Carvestone concrete overlays, you don't have to look at those unsightly patches any longer, because they will be completely covered by a warm, natural looking surface.
Carvestone Concrete Overlays are Rugged
Carvestone is tough, in fact, it's nearly twice as strong as concrete. That means it's long-lasting and durable and it also comes with a full 7 year warranty. However, if anything does happen to go wrong with your concrete overlay, Carvestone is also easy to repair. Unlike other concrete overlay surfaces, any repairs will never be seen.
Carvestone Has A Natural Look
For a unique, durable beauty, Carvestone is made with crushed limestone and natural-quarried quartz. You get a realistic stone appearance that is not equaled by any other concrete overlay surface. In fact, no one will ever guess that it's concrete, not stone, lining your walk. It's that convincing.
To talk more about concrete overlays and how the Carvestone system can help you create the look and feel you want for your home, please contact us. Our experts will be happy to answer any questions you may have.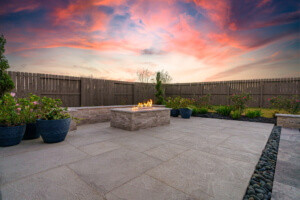 https://www.alliedoutdoorsolutions.com/wp-content/uploads/2022/06/Allied-Outdoor-Solutions-Logo.svg
0
0
Ashley Aguirre
https://www.alliedoutdoorsolutions.com/wp-content/uploads/2022/06/Allied-Outdoor-Solutions-Logo.svg
Ashley Aguirre
2014-10-30 19:29:21
2022-09-09 09:15:47
5 Reasons You Need Carvestone Concrete Overlay for Your Home